Back in the early 70s Honda released the US-90 as a universal, recreation vehicle for the US market. It was built around Honda's nearly indestructible, 89cc 4-stroke motor with a twin range gearbox. The motor was rated at a neck-snapping 6 horsepower and powered the one-piece, rimless tires via sealed chain drive.
Back then it seems Honda really didn't know how to market their odd-looking creation. Ads featured it as a farmer's helper, and an all- purpose motorcycle that quickly disassembled to fit in your car's trunk. Even the gas-powered toy producer Testors released a hard to find version of the ATC 90 complete with air-filled, rubber tires and working pull-starter.
The tires weren't really rimless although it appeared that way. Honda had the metal rims molded into the tire creating a one-piece tire and rim combination that was perfect for riding in the dunes and playing in the fields. The bad thing about this design was the tires were easily punctured and had to be patched or plugged from the outside. It also made the tires an expensive replacement at $75 each considering the whole ATC cost $600 brand new in the early 70s.
For a 1971 Cycle Guide test ride article you can
click here and read what motorcyclist's first impressions were of this odd-looking import from Japan. This is the ATV that started it all.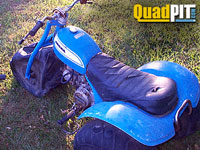 Surprisingly, the seats are in very good condition for being 30 years old. This blue model has a pretty good set of fiberglass fenders too that may end up on my final project. It has all of the hardware to run but lacks the guts for the pull starter. I'm sure it will fire up without to much effort.